The Institute for Integrated Catalysis at Pacific Northwest National Laboratory facilitates collaborative research and development in catalysts for a secure energy future.
Latest Announcements
Check Out Our Catalysis Publications!
(May 2013)
The research done by scientists in the Institute for Integrated Catalysis is published in a variety of journals. Check out our most recent publications, including Doug Elliott (pictured), Gary Nuenschwander, and Todd Hart's paper on hydroprocessing bio-oil and products separation for coke production in ACS Sustainable Chemistry and Engineering on the publications web page.
---
(April 2013)
Scientists at the Center for Molecular Electrocatalysis demonstrated that matching the proton source's pKa to that of a nickel-based catalyst speeds the conversion of electricity to hydrogen bonds dramatically. Turning electricity into chemical bonds and vice versa is necessary to capture intermittent renewable energy as use-any-time fuel. The Center is an Energy Frontier Research Center, funded by DOE's Office of Basic Energy Sciences, and is led by Pacific Northwest National Laboratory.
---
(April 2013)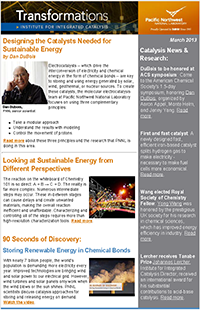 The latest issue of Transformations from Pacific Northwest National Laboratory shows the role of catalysts in making wind, solar and other sustainable energy sources a major part of the nation's energy landscape. In this issue, Dan DuBois shares the three principles involved in creating electrocatalysts, which drive the interconversion of electricity to energy stored in chemical bonds. Learn about this research and much more at the American Chemical Society symposium being held in his honor. The event is being organized by Aaron Appel, Monte Helm, and Jenny Yang. Our applied and fundamental scientists talk about the power of theory or computational chemistry to break chemistry bottlenecks and settle basic energy questions. And, don't miss our latest video – discover the world of electrocatalysts in 90 seconds.
Sign up at http://iic.pnnl.gov/news/Transformations/index.stm
---
(April 2013)
In extreme cold, carbon dioxide huddles near charged oxygen atom outcroppings on the surface of titanium dioxide; the carbon dioxide lacks the energy to reach a more protected spot, according to scientists at Pacific Northwest National Laboratory's Institute for Integrated Catalysis. When heated, the carbon dioxide slides into a more substantial, reactive oxygen vacancy, a hole left by a missing oxygen atom. Why the interest in carbon dioxide's preferences regarding oxygen vacancies? Replacing gasoline with fuels built using carbon dioxide and solar energy could greatly increase our nation's energy independence. Determining the barriers to getting carbon dioxide into the catalyst's oxygen vacancies, where the reactions often occur, is a fundamental step in creating the needed materials for solar fuels.
---
(March 2013)
Pacific Northwest National Laboratory's Institute for Integrated Catalysis is working with Seattle biofuel producer Imperium Renewables to develop a new method to make bio-based jet fuels. The method uses a catalytic process being developed at PNNL that converts biomass-based alcohols into renewable drop-in jet fuels. Researchers are about one year into the three-year oxygenates-to-fuels project and good progress continues to be made.
---
(March 2013)
Given his scientific successes and caring personality, the opportunities to speak at the 1.5-day symposium honoring the career of Dr. Dan DuBois, Pacific Northwest National Laboratory, filled quickly. The event honors DuBois American Chemical Society's Award in Inorganic Chemistry. Dr. Aaron Appel and Dr. Monte Helm at Pacific Northwest National Laboratory, along with Dr. Jenny Yang at the Joint Center for Artificial Photosynthesis, organized the symposium
---
(March 2013)
Congratulations to the IIC's Dr. Yong Wang on becoming a Fellow of the Royal Society of Chemistry, UK. He is internationally known for his catalysis and renewable energy research, which has improved energy efficiency in the chemical and fuels industries. His work spans fundamental and applied research, including basic studies of structure-function relationships of metal catalysts, novel material development, and reaction engineering to improve biomass and hydrocarbon conversion to fuels and chemicals. Wang holds a joint appointment. At Pacific Northwest National Laboratory, he is an Associate Director of PNNL's Institute for Integrated Catalysis. At Washington State University, he is a Voiland Distinguished Professor in the Gene and Linda Voiland School of Chemical Engineering and Bioengineering.
---
(February 2013)
Scientists at Center for Molecular Electrocatalysis based at Pacific Northwest National Laboratory developed a fast and efficient iron-based catalyst that splits hydrogen gas to make electricity -- necessary to make fuel cells more economical.