Creating a Research Nexus in Catalysis
By Wendy Shaw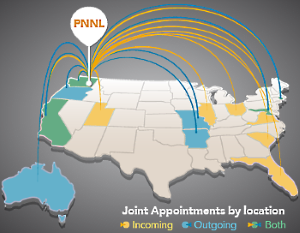 An innovative approach is creating a win-win-win situation for catalysis researchers, their projects, and science as a whole. Through joint appointments, professors are coming to Pacific Northwest National Laboratory's campus to collaborate on current and proposed projects. And researchers from the national lab are going to universities to share insights, mentor students, and catalyze research. Read more.
---
Taking the High Road by Finding the Middle Ground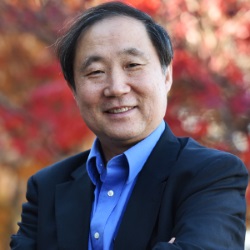 Meet Yi Lu. Since he was a teen, he's wanted to know how natural catalysts drive reactions at conditions that don't work for industries. Now, Lu is leading research to understand how catalysts in plants and microbes work by obtaining a precise, detailed mesoscale view of catalysts. With his colleagues, he's defining the catalytic middle ground, between the macro- and micro-scales. Answering fundamental questions about catalysts' mesoscale behavior could one day lead to harnessing natural sources of energy to produce electricity, fuels, and chemicals. Lu holds a joint appointment with Pacific Northwest National Laboratory and the University of Illinois at Urbana-Champaign. Read more.

Science Short: When a Catalyst Takes the Plunge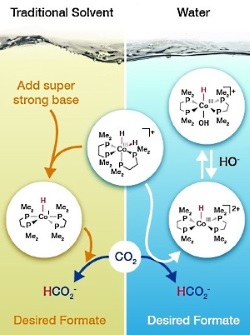 Turning carbon dioxide into formate requires overcoming challenges related to the choice of catalyst, solvent, and base. Led by Eric Wiedner, researchers may have found an optimal solution. With some back-of-the-envelope calculations, the team predicted that a cobalt catalyst that functioned in an organic solvent could take a different path to work in water and, in doing so, overcome each challenge. Read more.
Interdisciplinary teams at Pacific Northwest National Laboratory address many of America's most pressing issues in energy, the environment and national security through advances in basic and applied science. Founded in 1965, PNNL employs 4,400 staff and has an annual budget of nearly $1 billion. It is managed by Battelle for the U.S. Department of Energy's Office of Science. As the single largest supporter of basic research in the physical sciences in the United States, the Office of Science is working to address some of the most pressing challenges of our time. For more information on PNNL, visit the PNNL News Center, or follow PNNL on Facebook, Google+, LinkedIn and Twitter.
EMSL, the Environmental Molecular Sciences Laboratory, is a DOE Office of Science user facility. Located at Pacific Northwest National Laboratory in Richland, Wash., EMSL offers an open, collaborative environment for scientific discovery to researchers around the world. Its integrated computational and experimental resources enable researchers to realize important scientific insights and create new technologies.
If you have feedback – ideas, suggestions or questions – about IIC's Transformations, please contact Kristin Manke.