Future Challenges for Catalytic Vehicle Emission Control
By Chuck Peden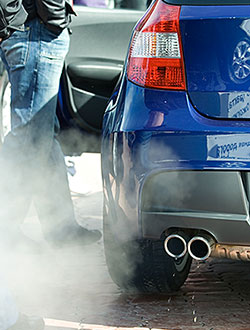 The abatement of environmentally harmful compounds–(hydrocarbons (HC), oxides of nitrogen (NOx) and sulfur (SOx), and carbon monoxide (CO)–emitted from mobile or stationary power sources has been a remarkable success story for the catalysis R&D community [1]. In particular, for vehicle exhaust emission control applications, the "three-way" catalyst that is the active material of the catalytic converter–a standard component on automobiles in the United States and Europe for more than 30 years–has contributed to a remarkable drop in emissions of CO, HC, and NOx from gas-powered vehicles. We now take for granted the dramatic improvements that the introduction of the catalytic converter technology has made in air quality and, correspondingly, human health. Read more.
---
Catalyst Developer's 9-Week Fellowship at National Lab is a Win-Win
Johnson Matthey's Hai-Ying Chen takes opportunity to work at PNNL's IIC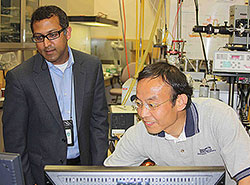 Johnson Matthey catalyst developer Hai-Ying Chen (right) shows results from a reaction mechanism to Reuben Sarkar, Deputy Assistant Secretary for Transportation, DOE Office of Energy Efficiency and Renewable Energy, at PNNL July 15. Chen was a visiting scientist at PNNL this summer.
Hai-Ying Chen is a scientific and product development manager at Johnson Matthey, a world leader in catalyst technology. At the company's Emission Control Technologies Division in Wayne, Pennsylvania, he is responsible for developing advanced emission control catalysts that enable automotive vehicles to meet government emission regulations. Read more.
90 Seconds of Discovery:
How Bio-oil Turns to Gunk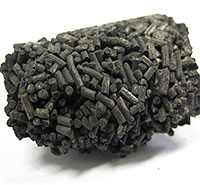 Recent research by scientists at Pacific Northwest National Laboratory's Institute for Integrated Catalysis is uncovering some of the forces that thwart biofuel production, and these discoveries can lead to the design of more efficient processes to make renewable fuel. Watch this video and learn more about how they are working to prevent bio-oil from turning into a solid by understanding how uncontrolled side reactions gunk up the process.