Editor's note: It's important to reach beyond your community to get new ideas, share information with different audiences, and solve big problems. This issue of Transformations shows how our catalysis researchers go beyond the traditional limits of their discipline. Enjoy!
How to Engage an Audience in an Attention-constrained World
By Corinne Drennan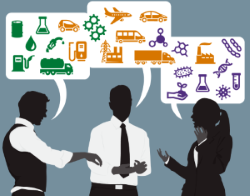 As scientists, we can contribute to our discipline and influence the global "conversation" with leadership and expertise. But it's estimated that only 3-10 people on average read any peer-reviewed journal article. How do we access additional channels for engagement? Read more.
---
Catalysis for Better Control and Use of Thermal Energy
By Gregory Schenter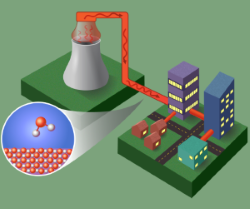 More than two-thirds of U.S. primary energy production is rejected to the environment as heat. Reducing these losses represents a unique opportunity to lower energy costs and increase U.S. competitiveness. Now a new U.S. Department of Energy (DOE) initiative is taking on this challenge. The Highly Efficient Advanced Thermal Energy Research (HEATER) Program aims to transform the conversion, storage, transmission, and utilization of thermal energy. Read more.

90 Seconds of Discovery:
Why Sulfur Batteries Fail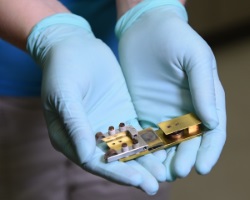 Sulfur-based batteries can store more energy than their lithium-ion counterparts. But right now these batteries lose the ability to hold a charge too fast. Researchers at PNNL used XPS to look into the chemistry behind why sulfur batteries fail. What they found will help create the next best battery. Watch the video.
Interdisciplinary teams at Pacific Northwest National Laboratory address many of America's most pressing issues in energy, the environment and national security through advances in basic and applied science. Founded in 1965, PNNL employs 4,400 staff and has an annual budget of nearly $1 billion. It is managed by Battelle for the U.S. Department of Energy's Office of Science. As the single largest supporter of basic research in the physical sciences in the United States, the Office of Science is working to address some of the most pressing challenges of our time. For more information on PNNL, visit the PNNL News Center, or follow PNNL on Facebook, Google+, LinkedIn and Twitter.
EMSL, the Environmental Molecular Sciences Laboratory, is a DOE Office of Science user facility. Located at Pacific Northwest National Laboratory in Richland, Wash., EMSL offers an open, collaborative environment for scientific discovery to researchers around the world. Its integrated computational and experimental resources enable researchers to realize important scientific insights and create new technologies.
If you have feedback – ideas, suggestions or questions – about IIC's Transformations, please contact Sarah McQuate, Editor in Chief.