One Year into Three-Year Bio-Based Jet Fuel Project
(March 2013)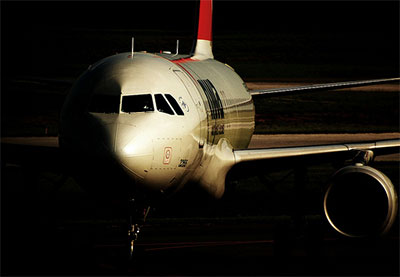 You may remember reading or hearing about Pacific Northwest National Laboratory working with Seattle biofuel producer Imperium Renewables to develop a new method to make bio-based jet fuels. The method uses a catalytic process being developed at PNNL that converts biomass-based alcohols into renewable drop-in jet fuels. Researchers are about one year into the three-year oxygenates-to-fuels project and good progress continues to be made.
The development that began in 2010 allowed researchers to demonstrate that ethanol could be used as a feedstock for preparing an all-hydrocarbon fuel blend that meets standardized international specifications for jet fuel. In 2011, the U.S. Department of Energy issued a call for proposals for a new aviation biofuel research project. PNNL and Imperium jointly responded with LanzaTech to produce the ethanol from biomass-derived syngas at the National Renewable Energy Laboratory. The minimally processed ethanol is the feedstock used by PNNL for conversion to jet fuel. The proposal was successful with DOE providing up to $4 million for the project, of which about $2 million is coming to PNNL over a three-year period that began in 2012.
LanzaTech integrated its fermentation technology with NREL's biomass gasifier in the first quarter of FY13. The team will begin delivering biomass syngas-derived alcohol to PNNL in the second quarter of FY13.
In the meantime, PNNL is working with Imperium to scale-up the technology to enable bench-scale conversion of the alcohol into a renewable drop-in jet fuel that works in today's existing aircraft, and will be viable on a techno-economic basis at commercial scale.
With the DOE funding, researchers from PNNL and Imperium have been able to demonstrate catalyst lifetime and regeneration for a key process step: over 2,000 hours on stream, which is also a DOE project milestone for catalyst performance. Researchers also conducted a technical feasibility assessment that was supported by experimental data, demonstrated that the product from upgrading to hydrocarbon meets jet specifications, and prepared samples for fuel property evaluation. Additionally, off-site specification testing was conducted and validated by the Air Force Research Laboratory. This testing provides key aviation stakeholders, including engine original equipment manufacturers, airlines, Federal Aviation Administration and rig manufacturers with valuable data to support the ongoing ASTM certification efforts for an alcohol-derived jet fuel.