Yong Wang Elected Fellow in American Institute of Chemical Engineers
(May 2013)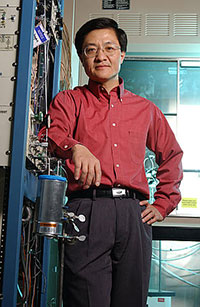 Yong Wang, AIChE Fellow
Congratulations to Dr. Yong Wang on being chosen as an American Institute of Chemical Engineers Fellow. Wang is internationally known for his catalysis research, which has significantly improved energy efficiency in the chemical and fuels industries. His work includes basic studies of structure-function relationships of metal catalysts, novel material development, and reaction engineering to improve biomass and hydrocarbon conversion to fuels and chemicals.
He holds a joint appointment with Pacific Northwest National Laboratory and Washington State University. At PNNL, Wang is an Associate Director of PNNL's Institute for Integrated Catalysis. At WSU, he is a Voiland Distinguished Professor in the Gene and Linda Voiland School of Chemical Engineering and Bioengineering.
Known for his innovations, Wang is a Fellow of the American Association for the Advancement of Science, the American Chemical Society and the Royal Society of Chemistry. The Chinese Institute of Engineers named him the 2006 Asian American Engineer of the Year. He has won three R&D 100 awards, the Presidential Green Chemistry Award, and been issued 86 US patents.
The American Institute of Chemical Engineers is a professional society with more than 45,000 members from more than 90 countries. Wang will be presented with his honor at the upcoming AIChE meeting in November 2013 in San Francisco, California.