Mark Engelhard Elected AVS Fellow
(June 2013)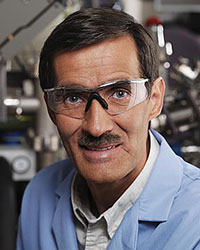 Congratulations to Mark Engelhard, Pacific Northwest National Laboratory's Institute for Integrated Catalysis, on being named a Fellow by the AVS Science and Technology Society. This honor is the professional society's premier recognition for members. Engelhard was recognized for his "sustained creative application and novel adaptation of surface analytical tools to address a wide range of energy and environmental problems and for service to the surface analysis community."
Engelhard is a member of the Institute and a research scientist in EMSL's Interface Spectroscopy and Diffraction Facility. Since 1978, he has specialized in the use of surface sensitive techniques to study surface and interphase chemistry.
The society awards the honor to its members who have made sustained and outstanding scientific and technical contributions in research, engineering, academic education or managerial leadership for at least 10 years. Engelhard will receive his award at AVS Awards Ceremony during the AVS 60th International Symposium & Exhibition in Long Beach, Calif., Oct. 30.