David Dixon Named ACS Fellow
(August 2013)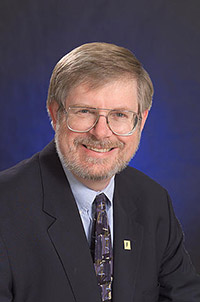 Frequent IIC collaborator, Dr. David Dixon was named an ACS Fellow
Congratulations to Dr. David Dixon on being chosen an American Chemical Society Fellow. Dixon holds the Robert Ramsay Chair of Chemistry at the University of Alabama and is a frequent collaborator with Pacific Northwest National Laboratory's Institute for Integrated Catalysis.
"This is an honor bestowed on members for their outstanding accomplishments in scientific research, education, and public service," said Dr. Bassam Z. Shakhashiri, immediate past-president of ACS, in announcing the class. "Their individual contributions to ACS, to science, and to society are hallmarks of distinction in keeping with the ACS mission of advancing the chemical enterprise and its practitioners for the benefit of Earth and its people."
Dixon, a computational chemist, was nominated for his scientific contributions in chemistry and for his service to the ACS. Dixon is considered a world leader in the application of numerical simulation to chemical problems and uses computational chemistry to solve problems in catalysis, geochemistry, biochemistry of peptides, heavy element chemistry for technological applications, and chemical hydrogen storage materials. His career includes outstanding research and leadership at DuPont Central Research and Development and Pacific Northwest National Laboratory. He was awarded the 2003 ACS Award for Creative Work in Fluorine Chemistry and is a Fellow of the American Association for the Advancement of Science and the American Physical Society. In 2010, he received DOE Hydrogen Program R&D Award for Outstanding Contributions to Hydrogen Storage Technologies. He received the 2011 Burnum Award for outstanding faculty accomplishment at the University of Alabama and received the inaugural University of Alabama Southeastern Faculty Achievement Award in 2012. His research at UA is presently supported by the Department of Energy, the National Science Foundation, and the Department of Defense.
Dixon has served as chairman of the ACS Division of Fluorine Chemistry, ACS councilor, chair of the 20th Winter Fluorine Conference, and as a member of the executive committee of the division. He is also on the editorial advisory board of the Journal of Physical Chemistry, the premier ACS journal in this area of research.
ACS, the world's largest scientific society, will induct Dixon along with 95 others during a September 9 ceremony held in Indianapolis, Ind., in conjunction with the society's national meeting.
For additional information on Dixon's latest honor, please see the University of Alabama press release.