James White Wins Prestigious Award from Organic Reactions Catalysis Society
(November 2013)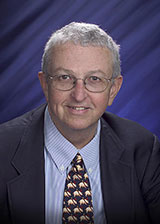 James White won the 2014 Paul N. Rylander Award from the Organic Reactions Catalysis Society.
Congratulations to Dr. James F. White on receiving the 2014 Paul N. Rylander Award for his outstanding contributions to the use of catalysis in organic reactions. White, who retired from Pacific Northwest National Laboratory in 2009, has more than 45 years of experience in diverse areas of catalysis. At PNNL's Institute for Integrated Catalysis, he was the liaison between the national lab and key industrial partners. He mentored and advised staff and clients on catalyst synthesis, rapid catalyst discovery via combinatorial methods, characterization, process development, process testing, and intellectual property. Before joining PNNL, he worked for a host of industries, including Engelhard Corporation, PPG Industries, Sohio (now BP), and Air Products.
He is well known for his gift of identifying and generating intellectual property. He is named on more than 100 patents, and contributed to, or was responsible for, research and developments that led to the commercialization of more than 60 catalysts and catalytic processes. White was a key contributor to a recent R&D 100 award for a catalytic process that produces propylene glycol from renewable sources. In addition, he strongly supports scientific organizations, including serving on the Organic Reactions Catalysis Society Board of Directors.
Since retiring from the national laboratory, White opened and operates 3RiversCatalysis, LLC, a technology consulting business focused on catalysis, catalytic processing and biomass conversions.
White will receive the Paul N. Rylander award, established by the society in 1988, at the 25th biennial Organic Reactions Catalysis Society meeting, March 2-6, 2014, in Tucson, Arizona.