Jim De Yoreo Elected Materials Research Society Fellow
(March 2014)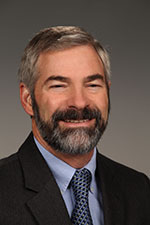 Dr. Jim De Yoreo, Chief Scientist of PNNL's Materials Synthesis and Simulation across Scales Initiative, was elected at Materials Research Society Fellow.
Congratulations to Dr. Jim De Yoreo, Pacific Northwest National Laboratory, on being selected as a Materials Research Society (MRS) Fellow for his pioneering research in the field of bio-inspired materials science and engineering along with his distinguished leadership and service to the materials community. A prestigious society, MRS has 16,000-plus members in more than 60 countries; the society's goal is to advance interdisciplinary materials research to improve the quality of life.
At Pacific Northwest National Laboratory, De Yoreo leads the initiative in Materials Synthesis and Simulation across Scales. During his career, he has pioneered the use of in situ molecular-scale imaging techniques to visualize self-assembly and crystallization in real time. He was the first to visualize multi-step self-assembly of proteins and oriented attachment in mineral systems and measure the forces involved. Further, this American Physical Society Fellow designed novel approaches to develop functional materials using template-driven synthesis.
A well-respected member of the scientific community, De Yoreo has served as the MRS President, a member of the MRS Board of Directors, and Chair of a number of MRS subcommittees. He has chaired national and international materials science conferences, contributed to national efforts in public outreach, and edited journals. Also, he has written or co-written 175 articles. He has several patents and won both the International Organization for Crystal Growth's Laudise Prize and the American Association for Crystal Growth's AACG Award. He has mentored extensively and serves as an Affiliate Professor in Materials Science and Engineering at the University of Washington.