Don Baer Receives ASTM International Award of Merit
(April 2014)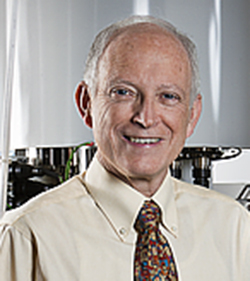 Don Baer, ASTM International Fellow
The ASTM International Board of Directors has selected Dr. Don Baer of Pacific Northwest National Laboratory to receive the 2014 Award of Merit. The award and its accompanying title of fellow is ASTM's highest organizational recognition for individual contributions to standards activities.
Baer garnered the award "for his exceptional service to ASTM International Committee E42 on Surface Analysis, innovations in the development of standards for surface analysis and development of new information resources for surface analysis." His ASTM activities focused on improving the reliability of the surface sensitive tools important to the success of his research.
A Laboratory Fellow, Baer is internationally known for the application of surface analysis methods to examine behaviors of nanoparticles, corrosion processes and the reactive properties of oxide and mineral surfaces. He is a vital member of the national laboratory's Institute for Integrated Catalysis. Also, he is the lead for EMSL's Energy Materials and Processes Science Theme. He is an affiliate professor of chemistry at the University of Washington, Seattle, and has been an adjunct professor of physics at Washington State University, Pullman. He has received numerous awards and honors, and he has authored or co-authored more than 250 publications.
ASTM International, formerly known as the American Society for Testing and Materials, is a globally recognized leader in the development and delivery of international voluntary consensus standards.