Transformations: Changing the Game in Biomass Conversion, Molecular Road Rage, and Long-Lived Biofuel Catalysts
(July 2014)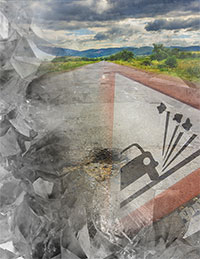 Transformations
is produced by the Institute for Integrated Catalysis at Pacific Northwest National Laboratory.
Enlarge Image
.
Stability, lubricity, fluidity, volatility, and non-corrosivity -- aviation fuel from biomass must have all of these properties and, of course, provide a source of energy. How can we achieve such fuels? We must grasp the scientific underpinnings at play during conversion. Learn about the challenges involved and progress towards reaching this goal from Corinne Drennan, whose research includes converting biomass and municipal solid waste to fuels and chemicals, in the latest edition of Transformations.
Also, learn how researchers
Design zeolites with wider "lanes" to reduce molecular crashes and pileups that can harm this popular class of catalysts.


Extend the life of expensive catalysts from days to months to a full year with the goal of efficiently converting bio-oil to fuel on a massive scale.


Discover that on the surface of a popular catalyst, certain atoms and molecules flee when light appears.
Sign up today
to receive the next edition of
Transformations
in your inbox.