Don Baer Selected to Join Washington Academy of Sciences
(July 2014)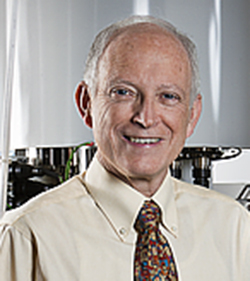 Don Baer, Washington State Academy of Sciences member
Don Baer has been elected for membership into the Washington State Academy of Sciences. He is a PNNL Laboratory Fellow and the lead scientist for energy materials and processes at EMSL.
Baer will join with 17 other scientists and engineers from across the state being recognized for outstanding scientific achievement and leadership. Academy members provide expert scientific and engineering analysis to inform public policy-making, and work to increase the role and visibility of science in Washington state.
The academy recognized Baer for advancements in understanding how physical and chemical processes at the surface of a material or nanoparticle influence the behavior of the material or its environment, enabling removal of contamination from water, for example. In addition to research, he also helped develop the design and operation of the EMSL user facility.
The academy was created in 2005 and consists of more than 220 members from diverse academic disciplines and industries, including aerospace, agriculture, computer, science, energy, engineering, ecology and transportation.
The new members will be honored at the academy's annual meeting in Seattle in September.
Read more in the Pacific Northwest National Laboratory news release.