PNNL Wins National Green Chemistry Award
American Chemical Society recognizes sustainable process to make chemical propylene glycol
(August 2014)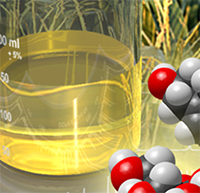 Archer Daniels Midland Company is manufacturing propylene glycol not with petroleum, but with plants such as soybeans and canola. Using renewable sources to make this commercially important additive reduces greenhouse gases by 61%. 140 jobs were created with ADM facility.
Congratulations to John Frye and Alan Zacher at Pacific Northwest National Laboratory's Institute for Integrated Catalysis and Todd Werpy at Archer Daniels Midland Company on receiving the American Chemical Society Green Chemistry Award for developing a sustainable, economic process to create the common industrial chemical propylene glycol from renewable sources rather than petroleum. The award recognizes the trio's development of a chemical catalyst and process that efficiently converts a plant-based compound into propylene glycol, which is used in everything from food to liquid detergents and cosmetics.
Archer Daniels Midland Company licensed the technology from the national laboratory in 2006, then used it successfully in a pilot plant in 2009. In 2011, the company constructed and began operating a full-scale, multi-million-dollar production facility in Decatur, Illinois, for the sole purpose of commercially producing propylene glycol from soybeans and canola. The plant, with a capacity of 100,000 metric tons, is now making propylene glycol entirely from renewable sources, while decreasing greenhouse gases by 61% when compared with oil-derived sources. In addition, 140 jobs were created with this facility.
Sponsors: Foundational research was initially supported through Laboratory Directed Research and Development internal funds. That was followed by two separate Cooperative Research and Development Agreements (CRADAs) with cost-sharing from the U.S. Department of Energy's Office of Energy Efficiency and Renewable Energy, the National Corn Growers Association, ADM, and others.