Alice Dohnalkova Honored by Microscopy Society of America
(September 2014)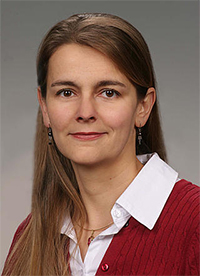 Alice Dohnalkova recognized for outstanding service to the Microscopy Society of America
Congratulations to Alice Dohnalkova, Pacific Northwest National Laboratory, on being honored at the 2014 meeting of the Microscopy Society of America. The society is dedicated to promoting and advancing techniques and applications of microscopy and microanalysis in all relevant scientific disciplines. MSA President Jeanette Killius presented Dohnalkova with two awards following completion of her three-year term of service. The first was as an outgoing member of the MSA Council, and the second was as an outgoing committee chair of local affiliated societies.
"It's been my pleasure and privilege to serve the society at the national level," said Dohnalkova, a member of PNNL's Institute for Integrated Catalysis. "It gave me a great perspective and appreciation of the incredible amount of work behind every successful conference, where volunteers direct most of the activities in this non-profit organization. I have come across an amazing network of microscopy professionals, and I'm looking forward to participating in the planning and preparation of the next national MSA meeting."
MSA's next national meeting, Microscopy and Microanalysis, will be held August 2-6, 2015, in Portland, Oregon.