PNNL Wins $2.2M to Develop Renewable System to Generate Hydrogen
(September 2014)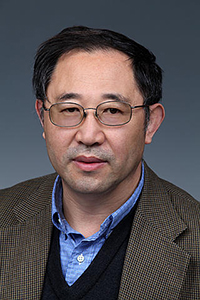 Dr. Wei Liu leads the team at PNNL working to create a compact reactor that turns biomass-derived oil into hydrogen.
Congratulations to Dr. Wei Liu and his team at Pacific Northwest National Laboratory on receiving $2.2 million to create a compact reactor that turns oil derived from plants into hydrogen. The U.S. Department awarded the grant as part of a $20 million effort to create, deliver, and dispense hydrogen. In addition to PNNL, the University of Hawaii at Honolulu, the University of Colorado at Boulder, FuelCell Energy, the National Renewable Energy Laboratory, and Sandia National Laboratories received funds. The goal is to produce hydrogen that costs less than the equivalent of $4-per-gallon gasoline and have it available for use in fuel cells.
Hydrogen, along with oxygen from the air, powers fuel cells, with the only waste being water and heat. Fuel cells are an attractive option for powering vehicles and heating and cooling buildings. In collaboration with Vue Energy, Cormetech, and Washington State University, PNNL's team at the Institute for Integrated Catalysis is working on a compact reactor unit that can be readily transported and installed, and quickly turned around for distributed hydrogen production. The compact reactor unit may be truck loaded to produce hydrogen to where it is needed. This eases distribution requirements, as it does not require a centralized manufacturing and associated distribution system.
Read more in "PNNL Using $2.2M Grant for Hydrogen" in the Tri-City Herald.