Scott Chambers Honored by American Physical Society for Outstanding Reviews
(December 2014)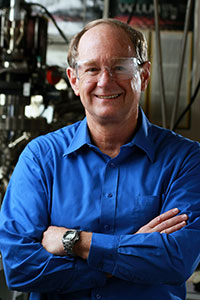 Dr. Scott Chambers provided a Perspective article to the latest issue of
Science
.
Congratulations to Dr. Scott Chambers at Pacific Northwest National Laboratory on being named an outstanding referee of Physical Review and Physical Review Letters. He was selected for his high-quality reviews and advice. His award notes how he has helped the journal "advance and diffuse the knowledge of physics, while creating a resource that is invaluable to authors, researchers, students and readers." Chambers referees several articles every year.
In addition to his work in the scientific community, Chambers leads research on the growth and properties of crystalline oxide films. He elucidates the fundamental relationships between composition and structure, and the resulting electronic, magnetic, and photochemical properties. Understanding these structure-function relationships enables new uses of these materials in solid-state electronics and energy conversion. Chambers also assists users of the Department of Energy's EMSL in designing experiments and growing oxide films for their own use.
Chambers is an American Association for the Advancement of Science Fellow, an American Vacuum Society Fellow, and a Wiley Research Fellow. Also, he is an affiliate professor in the Departments of Chemistry, and Materials Science and Engineering at the University of Washington.