Don Baer Named AVS Trustee
A new member of the Scholarship and Awards Committee
(December 2014)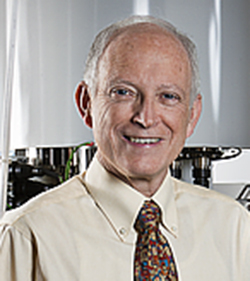 Don Baer, AVS Trustee
The membership of AVS: Science and Technology of Materials, Interfaces, and Processing has elected Dr. Don Baer a trustee on the society's Scholarship and Award Committee. The honor was announced Nov. 12 at the AVS 61st International Symposium and Exhibition in Baltimore.
The committee comprises six members known as trustees. Elected by the society's membership, the trustees are entrusted with the process and recipient selection of all society scholarships and awards.
"Recognition of outstanding scientific research and technological innovation is one of AVS' most important activities," said Baer, EMSL's Science Theme lead for Energy Materials and Processes and member of Pacific Northwest National Laboratory's Institute for Integrated Catalysis. "It's a great honor to have been elected a trustee."
Baer has been an AVS Fellow since 2001 and earned the AVS Albert Nerken Award in 2009.
AVS, formerly American Vacuum Society, is an interdisciplinary, professional society that supports networking among academic, industrial, government, and consulting professionals involved in a variety of disciplines related to materials, interfaces and processing.