EMSL Integration 2015 Explores Advanced Batteries and Catalysis Research
Registration now open
(May 2015)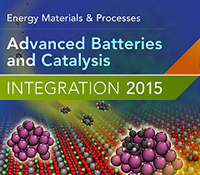 Registration is now open for "EMSL Integration 2015: Energy Materials and Processes for Advanced Batteries and Catalysis." The annual user meeting will be held September 15-17 at EMSL in Richland, Wash.
This year's meeting focuses on advanced batteries and catalysis research at the molecular level. Researchers from around the world and from academia, industry, and government research labs are encouraged to attend.
Confirmed plenary speakers include
The agenda includes
Sept. 15-16 - Battery Boot Camp. The group will work on a previously identified challenge associated with advanced batteries and advanced battery materials, discuss how EMSL capabilities are currently used to address the challenge, and then spend a day in small groups with EMSL scientists working on the challenge.
Sept. 17 - Full day of plenary speakers with morning sessions focused on batteries and afternoon sessions focused on catalysis. Followed by a poster session, including a student poster competition and a vendor-sponsored dinner.
On Sept. 18, the Pacific Coast Catalysis Society is holding its annual meeting at EMSL. Attendees of the EMSL user meeting are encouraged to attend the society's symposium.
Cost is $55 for students and $135 for nonstudents. Registration information is available on the Integration 2015 website, along with more information about accommodations, badging and contacts.