Johannes Lercher Delivers Hougen Lectureship
(June 2015)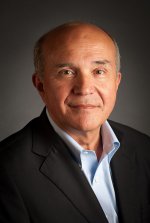 Johannes Lercher
presented the Hougen Lectureship at the University of Wisconsin-Madison
Congratulations to Dr. Johannes Lercher, Director of Pacific Northwest National Laboratory's Institute for Integrated Catalysis, on being selected to give the Hougen Lectureship at the University of Wisconsin-Madison. The lectureship honors Professor Olaf A. Hougen, one of the founders of today's Chemical Engineering. Lercher shared his insights with the university's Chemistry and Chemical Engineering faculty on the elementary steps of catalyzed transformations of biomass to fuels. He also discussed strategies to tailor the chemical environment of catalytically active centers to enhance reaction rates selectively.
The topics are based, in part, from the work he leads for the U.S. Department of Energy's Office of Science. This work includes research into the fundamental aspects of industrially relevant catalysts and reactions, focused on exploring the options of low-temperature acid-base catalyzed activation, functionalization, and transformation of alkanes.
His research has resulted more than 470 publications and 17 patents. His awards and honors include the 2013 Tanabe Prize for Acid-Base Catalysis and the 2013 Francois Gault Lectureship Award. Lercher is a Battelle Fellow and professor at Technische Universität München, Germany.
Lercher gave his presentations on April 20 and May 1, 2015.