Johannes Lercher Honored by Chemical Institute of Canada
(June 2015)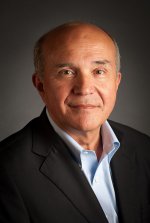 Johannes Lercher
received the Robert B. Anderson Award from the Chemical Institute of Canada
Congratulations to Dr. Johannes Lercher, Director of Pacific Northwest National Laboratory's Institute for Integrated Catalysis, on receiving the Robert B. Anderson Award from the Chemical Institute of Canada. As the recipient of this award, Lercher will share his insights on fundamental aspects of catalysis, focusing on the basic steps of catalytic reactions on oxides and zeolites, in a plenary lecture at the 24th Canadian Symposium on Catalysis. The catalysis targets the conversion of biomass to hydrocarbon fuels via low-temperature reactions. His examples and opinions come, in part, from the work he leads for the U.S. Department of Energy's Office of Science.
Johannes Lercher has co-authored more than 470 publications and is the Editor-in-Chief of the Journal of Catalysis. His group has pioneered characterizing catalytic reactions as they occur on surfaces via molecular spectroscopy and using the information to build innovative catalysts. The work has also led to 17 patents. His contributions have garnered prestigious awards and fellowships. Lercher is a Battelle Fellow and professor at Technische Universität München, Germany.
The 24th Canadian Symposium on Catalysis will be held in Ottawa, Ontario, on May 8-11, 2016.