Glezakou and Rousseau Featured in Special ACS Journal
(July 2015)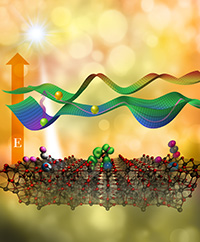 While basic calculations suggest these reactions should occur easily, scientists at PNNL discovered the true energy profiles (top) and the needed for added energy in three prototypical reactions on a titanium dioxide surface.

Enlarge Image
.
Congratulations to Dr. Yeohoon Yoon, Dr. Yang-Gang Wang, Dr. Roger Rousseau, and Dr. Vassiliki-Alexandra Glezakou at Pacific Northwest National Laboratory on having their invited article appear in a recent special issue of ACS Catalysis. The special issue highlights theory and computation in catalysis. The PNNL team contributed the article "Impact of Non-Adiabatic Charge Transfer on the Rate of Redox Chemistry of Carbon Oxides on Rutile TiO2(110) Surface."
In the article, the scientists solve what has been a difficult riddle for research: the reason why some reactions that should occur easily -- do not. The team used three prototypical reactions on a titanium dioxide surface to explain the enigma, by showing that these reactions will happen only after additional energy, such as heat or light, is provided. Led by Glezakou and Rousseau, the team mapped out the actual energy profile of the reactions. By looking at the excited states along the reaction, the team saw a cusp on the lowest (that is, ground state) energy pathway, indicating that the reaction can happen only after the system is excited to a higher energy state.
The results of this study will help other scientists accurately model catalytic reactions on titania and other, reducible oxides, which are frequently used in industry and elsewhere to drive reactions. In cases like those, disregarding the coupling between states can lead to inaccurate descriptions and energy requirements of reaction pathways and their rates.
Reference: Y Yoon, YG Wang, R Rousseau, and VA Glezakou. 2015. "Impact of Non-Adiabatic Charge Transfer on the Rate of Redox Chemistry of Carbon Oxides on Rutile TiO2(110) Surface." ACS Catalysis 5(3):1764-1771. DOI: 10.1021/cs501873m