Researchers Ace Hydrogenase at PNNL-Led Workshop
(August 2015)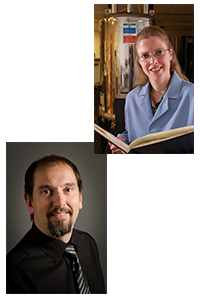 Wendy Shaw (right) and Monte Helm led an invitation-only workshop on hydrogenase mimics.
Before they can power your car, hydrogen fuel cells need an efficiency boost. Pacific Northwest National Laboratory catalysis scientists Dr. Wendy Shaw and Dr. Monte Helm led a workshop on hydrogenase mimics, important components of fuel cells that catalyze hydrogen production and use.
Held at the Telluride Science Research Center from 29 July to 3 August 2015, the invitation-only workshop brought together 25 researchers in the catalysis field, including Aaron Appel, Morris Bullock, Molly O'Hagan, Simone Raugei, and Eric Wiedner, all from PNNL.
As one would guess, a workshop titled "Structure and Function of the Hydrogenase Mimics" focused heavily on the catalysts that mimic natural hydrogenase catalysts, or enzymes. Catalysts are chemical compounds that speed up reactions, and hydrogenase helps split two-atom hydrogen molecules into two protons and two electrons.
Many organisms use hydrogenase enzymes, naturally. However, natural hydrogenase enzymes are large and unwieldy, and would be too expensive to use on a large scale. For practical use in fuel cells, scientists are attempting to create mimics, which would perform the same function but without added complexity and cost.
The workshop included experts in both natural enzymes and synthetic mimics. This led to some heated discussion between the two groups, but it was all part of the plan.
"We purposely hand-selected a diverse group," Helm explained. "We had specialists in enzymes and mimics, scientists who were established in their fields and early in their careers, experimental researchers and computer modelers, all from around the world."
Over the week, they hashed out contentious points and brought new ideas to light. Even after scheduled sessions, scientists would run into each other and talk.
"The informal setting helped a lot," Shaw said. "Instead of all going back to our own hotel rooms, we continued the conversation on hiking trips and at round table dinners."
Shaw and Helm plan to continue the event in the future. Hosting a workshop at the TSRC is very prestigious and requires a lot of work. The venue is only open for the summer, which limits the number of workshops that can be held, and hosts need to apply two years in advance.
The effort is worth the outcome, though. If basic research with hydrogen-breaking catalysts continues to advance, it could eventually lead to more efficient hydrogen fuel cells and a better way to store energy.
Shaw and Helm are part of both the Institute for Integrated Catalysis and the Center for Molecular Electrocatalysis, an Energy Frontier Research Center funded by the DOE Office of Science's Basic Energy Sciences. Shaw is an expert in catalysis and biomineralization processes, and has a Ph.D. in physical/biophysical chemistry from the University of Washington. Helm is a leading figure in synthetic and structural main group chemistry, and has a Ph.D. in inorganic chemistry from the University of Colorado, Boulder.