PNNL, WSU Energy Researcher Wins National Award
(March 2017)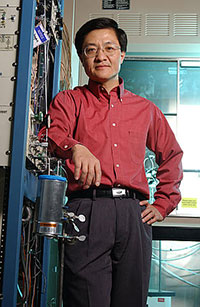 Yong Wang
, ACS Industrial and Engineering Chemistry Division Fellow
Associate Director of Institute for Integrated Catalysis and Washington State University professor Dr. Yong Wang has won the American Chemical Society's annual Industrial and Engineering Chemistry Division fellow award. A symposium in his honor will be held during the society's national meeting in New Orleans in March 2018.
Best known for his research in catalysis and reaction engineering for energy and renewable fuels and chemicals, Wang holds a joint appointment with WSU and the U.S. Department of Energy's Pacific Northwest National Laboratory. He has 256 issued patents and has won three R&D 100 awards that annually recognize the 100 most significant and innovative new technologies introduced in the marketplace.
Each year, the American Chemical Society award honors a chemist or engineer from an academic, industrial or government laboratory based on innovative contributions to the areas in which they have published within applied chemistry and/or chemical engineering.
Wang is a fellow of the American Association of the Advancement of Science and National Academy of Inventors and a member of the Washington State Academy of Sciences. The Chinese Institute of Engineers named him the 2006 Asian American Engineer of the Year. He was the PNNL Inventor of the Year twice, and he has published more than 230 peer-reviewed articles that have been cited more than 14,000 times.
A WSU alumnus (M.S. '92, Ph.D. '93, chemical engineering), he is the Voiland Distinguished Professor in WSU's Gene and Linda Voiland School of Chemical Engineering and Bioengineering. He is a laboratory fellow at PNNL.
See WSU's press release: https://news.wsu.edu/2017/02/28/energy-researcher-national-award/