David Dixon Named a Top Author by American Chemical Society
(August 2017)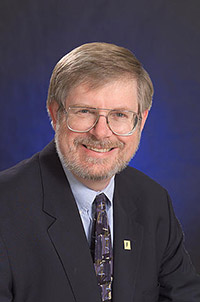 Frequent IIC collaborator, Dr. David Dixon was named a top author by ACS
Congratulations to Dr. David Dixon on being chosen as a top author in the Journal of Physical Chemistry A. The journal publishes research that provides new physical insights into the inner workings of molecules, clusters, and ions, which are of interest for catalysis.
Dixon, a computational chemist, has an outstanding publishing record with the journal. To date, he's written or co-written more than 100 articles that have appeared in the journal and 23 in the last 5 years. His articles shed new light on the application of numerical simulations to chemical problems. He uses computational chemistry to solve problems in catalysis and other research fields.
In addition to his work in the laboratory, Dixon is an active member of the scientific community. His research was recognized with numerous awards. He earned the rank of fellow with the American Chemical Society, American Physical Society, and the American Association for the Advancement of Science, to name just a few, as well as the 2003 American Chemical Society Award for Creative Work in Fluorine Chemistry.
Dixon, a former Battelle Fellow at the Pacific Northwest National Laboratory, currently holds the Robert Ramsay Chair of Chemistry at The University of Alabama. He continues to be a frequent collaborator with Pacific Northwest National Laboratory's Institute for Integrated Catalysis. The American Chemical Society bestowed this honor as the prestigious publisher celebrates their one-millionth article.