Grant Johnson Co-Organizes Mesilla Chemistry Workshop
(February 2018)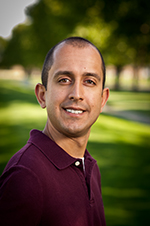 Grant Johnson
, 2018 Mersilla Chemistry Workshop co-organizer
Congratulations to Dr. Grant Johnson at Pacific Northwest National Laboratory on successfully co-organizing the 2018 Mersilla Chemistry Workshop. The 3-day event brought together experts from five countries to share insights about connecting theory and experiment in catalysis research. Johnson and co-organizer Professor De-en Jiang from the University of California, Riverside spent more than 8 months working on the event with Professor Bill Hase at the Texas Tech University, who oversees the annual event. Johnson and Jiang spent the majority of their time selecting speakers. They wanted an exciting blend of scientific leaders and rising stars in the field of catalysis. They chose 19 diverse speakers from the United States, Germany, Wales, Japan, and Korea.
"The best part was getting to meet people in the field who's work I've been following for a long time," said Johnson. "I enjoyed getting to speak with them in person."
Johnson, the inaugural Linus Pauling Distinguished Postdoctoral Fellow at PNNL, is well known in the scientific community for his innovative research and crisp organizational skills. In the catalysis arena, he conducts work into the electrocatalytic oxygen reduction reaction, a critical process taking place in fuel cells, and supercapacitors, which will play a key role in balancing future energy storage solutions.
Beyond catalysts, he develops a highly controlled surface-modification technique known as ion soft landing. He uses this technique to investigate the charge retention properties of metal clusters and determine if they have potential for use as molecular capacitors in organic electronics or in high-density memory devices. Since joining the national lab in 2010, he's written or co-written more than 30 articles in scientific journals and a book chapter focused on nanoparticle synthesis.
Johnson earned a bachelor's degree in chemistry from the University of Delaware. He worked with the U.S. Army before heading off to earn a doctoral degree at Pennsylvania State University. During graduate school, he received a fellowship to study in Germany and another to attend the meeting of Nobel Laureates in chemistry.