Yong Wang Recognized by the American Chemical Society
(May 2018)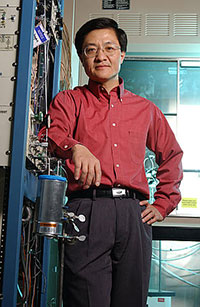 Yong Wang, American Chemical Society's annual Industrial and Engineering Chemistry Division Fellow
Dr. Yong Wang, PNNL Laboratory Fellow, was honored with the American Chemical Society's annual Industrial and Engineering Chemistry Division Fellow Award. He received the award at the society's 255th National Meeting in March.
The award honors a chemist or engineer from an academic, industrial or government laboratory for innovative contributions to applied chemistry and/or chemical engineering.
Wang is internationally known for catalysis research achievements in energy, renewable fuels, and chemicals. At PNNL, he is associate director of the Laboratory's Institute for Integrated Catalysis. He also holds a joint appointment with Washington State University.
In addition to ACS, Wang is a fellow of multiple professional societies, including the American Association for the Advancement of Science, the National Academy of Inventors, the American Institute of Chemical Engineers, the American Chemical Society, and the Royal Society of Chemistry. He has 260 peer-reviewed publications, holds 107 issued U.S. patents, and has won three R&D 100 awards, given for the most innovative technological breakthroughs each year.
ACS is the largest scientific professional society in the world, with nearly 157,000 members. The Industrial & Engineering Chemistry focuses on converting science into commercially relevant products and processes.
For more information, see the WSU news on Wang's work and the award.