Breaking Ground on Innovation
By Karl Mueller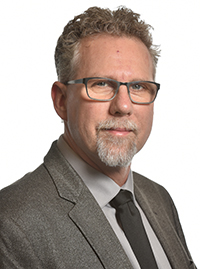 About the Author:
Karl Mueller is Chief Science and Technology Officer, Physical and Computational Sciences Directorate, at PNNL."
The catalysis research and discovery carried out within the IIC will get a significant boost in the coming years as a new landmark Department of Energy facility takes shape in the heart of PNNL's Richland, Wa., campus. The $90M research facility, which will feature about three dozen independent laboratory modules and about 125,000 square feet of space, presents an opportunity to reimagine PNNL's robust research in catalysis, material science, and related chemical transformation programs in new and innovative ways. The building, now in its design phase, will encourage collaboration across fields now housed in separate spaces and facilitate translation of scientific and technical discoveries to industry uses. A significant portion of the new space will be reserved for use by collaborators from across the nation and the world. It will also foster education and mentoring of a new generation of scientists and engineers who will become the future entrepreneurs bringing to fruition the nation's investment in catalysis research.
We in the PNNL leadership team are proud of the collaborative process that resulted in the new facility, a tone set during the planning process, which included bringing together state and federal officials and university collaborators to envision and fund this facility as a state, regional, and national resource. Congress approved the funding for the building's design and construction in 2018. The State of Washington appropriated $8 million to fund scientific instrumentation, including a high-field dynamic nuclear polarization (DNP) solid-state magnetic resonance instrument that will be the first of its kind in the United States and only the second in the world. Modern wet chemistry laboratories suitable for chemical and nanomaterials synthesis, as well as engineering process scale-up capabilities, high-resolution electron microscopy facilities, and additional specialized state-of-the-art instrumentation will be housed in the structure slated to open in late 2021. The new space includes core research programs in biocatalysis, heterogeneous and molecular catalysis, as well as one of our two Energy Frontier Research Centers at PNNL (the Center for Molecular Electrocatalysis). In addition, our core programs in Condensed Phase and Interfacial Molecular Science, and synthesis and processing for materials design and directed synthesis will be located in the new facility, as well as associated capabilities in data analytics, modeling and simulation, and performance modeling.
With groundbreaking set to occur in late 2019, PNNL will be embarking on a promising new era in catalysis research and technology development bringing more efficient energy systems to the benefit of our state, our nation, and the world.