Capability Corner: High Throughput Center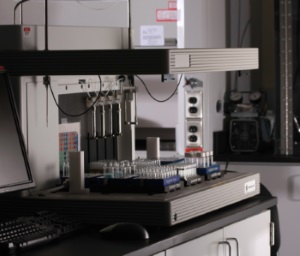 A liquid-handling robot prepares metal solutions for later impregnation onto catalyst supports. The instrument is one example of the high throughput testing capabilities that allow rapid screening of catalyst compositions.
Developing and fine tuning a novel catalyst for a chemical process can be a daunting task. The process is often time consuming, resource demanding, and susceptible to hard-to-isolate random errors. However, the discovery of more efficient and selective catalysts is imperative for the field of biomass conversion. Catalysis researchers at Pacific Northwest National Laboratory (PNNL) are determined to speed this process by utilizing high throughput robotics. Instead of synthesizing and testing one catalyst at a time, hundreds of catalysts can be quickly evaluated in the comprehensive High Throughput Center (HTC), located in the Biological Sciences and Engineering Laboratory at PNNL.
With the help of specialized robotics, several dozen unique catalyst materials can be synthesized and tested in parallel under a variety of conditions. The key to this speedy screening is size. Traditional catalyst development is done on a 50- to 500-gram scale. Each time, several grams of expensive metal precursors and unique metal oxides or other supports are required. The sheer volume means synthesis can take several hours. Testing then occurs over the next 1 to 3 days and requires anywhere from 50 to 1000 milliliters of feedstock.
The HTC operates on a 50-milligram scale.
This cuts down on material costs and preparation time. Most importantly, the smaller volumes mean that specially designed batch and flow reactors can be used to test catalysts in parallel. A dozen catalysts in the HTC can be tested in a week, compared to almost 2 months in a traditional reactor. Parallel testing also reduces random errors and allows for cost-effective validation and statistical analysis.
Leveraging the HTC, PNNL aided the researchers at Archer Daniels Midland Company in developing an effective catalyst to convert glycerin, a byproduct in their transesterification process for biodiesel production, to propylene glycol, a high value chemical. Archer Daniels Midland's propylene glycol plant has a current capacity of 100,000 metric tons.
The HTC was also employed to improve syngas conversion catalysts for the production of ethanol. Over the period of a year, approximately 7,500 runs were conducted with the goal of reducing the metal loadings of the syngas catalysts; it would have taken nearly 10 years to complete the same testing using traditional catalyst development techniques.
The HTC is truly a unique and versatile capability at PNNL, speeding experimentation and allowing researchers the freedom to think outside the box when it comes to catalyst design. Innovative thinking and powerful capabilities lead to faster and more innovative solutions and, in turn, better science.
---

About the author: Heather Job manages PNNL's High Throughput Center. She provides experimental design, execution, data processing, and reporting for the center. Please contact Heather at heather.job@pnnl.gov if you have questions about the center.