Creating a Research Nexus in Catalysis
By Wendy Shaw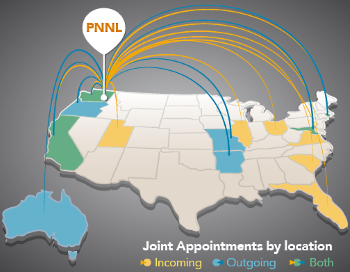 While the city of Richland in southeastern Washington State may seem a bit off the beaten path, it's actually a national hub for professors and their students who want to explore catalysis. Through joint appointments, professors come to Pacific Northwest National Laboratory's (PNNL) Richland campus to collaborate on current and proposed projects. Researchers from the lab also travel to regional institutions to share their insights, mentor students, and work on projects at universities. This newer approach to creating connections is a win-win-win situation for researchers, their projects, and science as a whole.
Joint appointments leverage strengths and capabilities from other institutions to allow us to make an impact in areas beyond our local expertise, broadening our impact as well as our visibility. This can allow us to build a research area while optimizing internal investments, providing a foundation upon which to develop new programs and bring in new staff.
In the past year, a significant number of joint appointments have been put into place by PNNL. These appointments have been largely focused on catalysis, ranging from heterogeneous to enzymatic research. A great example of this is our program in Physical Biosciences, which was successful due to a joint appointment with Lance Seefeldt, an enzymologist from Utah State University. Yi Lu, an expert in protein redesign for catalysis from the University of Illinois, Urbana-Champaign, is another joint appointee who is positioned to help build our Physical Biosciences program in the area of enzymatic catalysis. Lu is working closely with PNNL early career scientist Molly O'Hagan. (See feature article for more on Yi Lu.)
Another new staff member is John Peters, who is leading the Institute of Biological Chemistry at Washington State University (WSU) in Pullman, Washington. He leads the Biological Electron Transfer & Catalysis Energy Frontier Research Center (BETCy EFRC). His joint appointment emphasizes the synergies between the BETCy EFRC and the Center for Molecular Electrocatalysis EFRC at PNNL. An example of this connectivity is the involvement of PNNL scientist Simone Raugei working on projects in both centers. Simone also has a new joint appointment with WSU. To close the circle, Lance Seefeldt also works within BETCy, as well as co-leading the Physical Biosciences program at PNNL. He is also participating in a new EFRC proposal from PNNL, further cementing the relationship between the university and the national lab.
In heterogeneous catalysis and surface science, we have several joint appointments. Zdenek Dohnálek and Dave Heldebrant hold new appointments at WSU. There, they are looking forward to building collaborations with the Chemical Engineering Department and mentoring WSU graduate students who will work in laboratories at PNNL. These types of outgoing appointments also open the door to additional funding opportunities, which can further enhance our programmatic breadth.
Yong Wang and Norbert Kruse are long-standing appointments incoming to PNNL from WSU. While Yong's home institution is WSU, a little over a hundred miles from PNNL, he calls Richland home and has a much-used office at PNNL. He has built a large part of his career on collaborations created between these institutions and has been a driving force in establishing joint appointments between PNNL and universities.
As catalysis research in Richland moves forward, we will continue to identify both new institutions and individuals who can be significant collaborators on programmatic efforts to advance our scientific research. We look forward to focusing on regional, national, and international appointments in catalysis to further build our international reputation as well as strong local collaborations.
---
About the author: Wendy Shaw is the Physical Sciences Division Director at Pacific Northwest National Laboratory. She's also a catalysis researcher who has focused on enzymatic scaffolding and nuclear magnetic resonance spectroscopy to characterize novel catalysts and biomineralization.