Summer 2018 Issue of Transformations Now Available
(August 2018)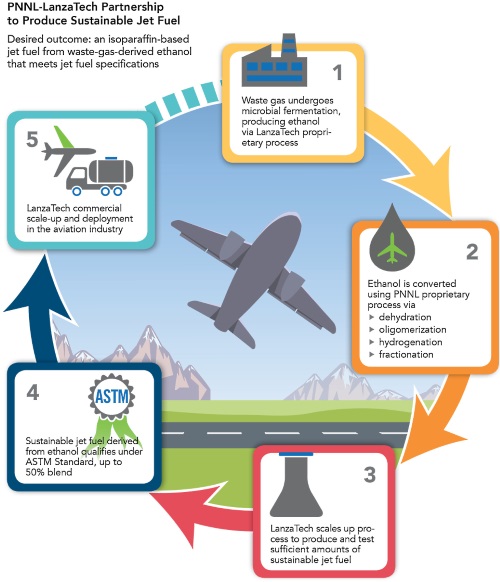 PNNL's patented thermocatalytic process converts ethanol into a sustainable jet fuel with properties that meet strict aviation requirements. LanzaTech is scaling up the process for commercial deployment.
Check out the latest opinions, insights, thought leaders, and capabilities with these articles:
Effective Use of Renewable Electricity for Making Renewable Fuels and Chemicals by Robert Weber. The increasing availability of renewably generated electricity could change the way that chemicals and fuels are manufactured by substituting conventional, thermally activated processes with possibly more selective and certainly more highly distributable electrochemically activated processes. Renewable electricity, however, is not free electricity. Converting carbon dioxide back into a fuel, say methane, requires adding energy equal to or greater than the heat of combustion of the fuel.
Sustainable Jet Fuel: The Flight Path from Fundamental Science to Applied Technology. Through chemistry, catalysis, and engineering that started at Pacific Northwest National Laboratory and was scaled up by LanzaTech, the aviation industry now has a way to make sustainable fuel blends that meet the jet fuel standards and are more cost-competitive than ever. Learn about the journey from idea to jet fuel as researchers found a way to create energy-dense fuel from waste-derived ethanol.
Embracing Complexity and Chaos: Roger Rousseau. What you see in the details says something about your personality and your job. For those who create and use computer models to understand the fundamental laws of the universe, details are what ground models in reality. By creating models that reflect the complex nature of the situation, Roger Rousseau has pushed state-of-the-art theory into solving increasingly harder problems.
Capability Corner: High Throughput Center by Heather Job. Developing and fine tuning a novel catalyst can be daunting. Instead of synthesizing and testing one catalyst at a time, hundreds of catalysts are quickly evaluated in the High Throughput Center at Pacific Northwest National Laboratory. With the help of specialized robotics, several dozen unique catalyst materials are synthesized and tested in parallel. The key to this speedy screening is size. Traditionally catalysts are developed is done on a 50- to 500-gram scale. The center operates on a 50-milligram scale.
Sign up today to receive the next issue of Transformations in your inbox.